Helping people prepare for, find, and keep good jobs is what Goodwill is about.
0
total people served in 2021
0
people placed into jobs within area businesses
0
program participants who worked and earned paychecks at Goodwill
Feb 12, 2020
Goodwill supports local reading programs with book donations
PRESS RELEASE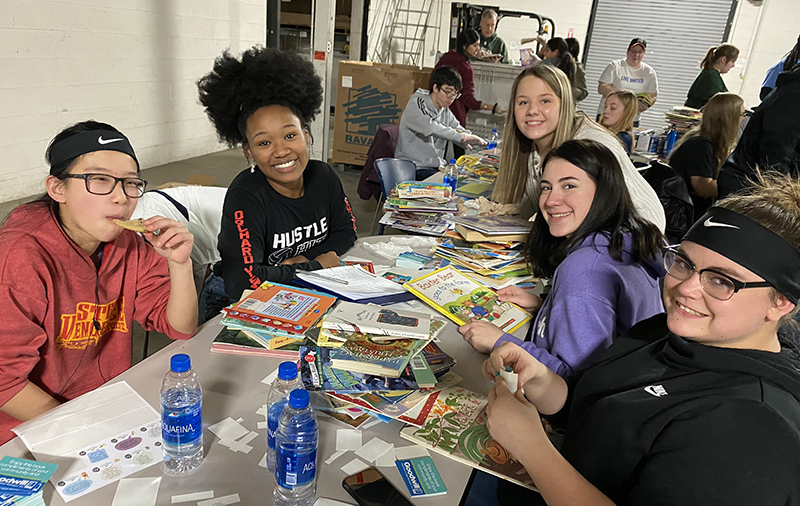 MUSKEGON, MI — Goodwill Industries of West Michigan (GIWM) has partnered with Muskegon Area Intermediate School District's "Read Early. Read Often." (RERO) initiative in support of improving child literacy rates in West Michigan. Goodwill has committed to donating much-needed children's books to RERO in support of their outreach programs and collaborating partners.
"Less than 40% of Muskegon County students reach adequate literacy level by third grade," said Goodwill Resource Development Coordinator Kimberly Harsch. "Without an early strong foundation in reading, children are left behind at the beginning of their education and struggle to catch up. Goodwill knows that education is critical to earning higher wages in adulthood and in combating the cycle of poverty. It is imperative that children in the communities we serve are given every opportunity to be successful in their education so they can be set on a path to obtaining meaningful and self-sustaining employment."
Goodwill's supply of books are generously donated by the community for sale in its 18 retail locations. The revenue from the sale of these donated books supports Goodwill's employment and training programs. Books that remain unsold after being in the stores need to be evaluated for quality, cleaned, and sorted into appropriate age groups. Once books are sorted, Read Early. Read Often. distributes them to non-traditional locations such as community services centers, after school programs, food pantries, doctor's offices, and free book stores.
On February 1, Goodwill hosted its first book donation event at its headquarter facility. High school volunteers from Mona Shores Interact Club, Muskegon Public Schools, Oakridge Interact Club, Orchard View Interact Club, Pathfinders of Muskegon, and United Way of the Lakeshore joined forces to sort, wash, label, and package 1,333 books that were then donated to Read Early. Read Often. Books from the event also supported the newly formed, student-led "Reading Buddies United" program that matches trained student volunteers to read one-on-one with children in the community.
"We plan to expand on this initial book sorting event to a monthly occurrence," Harsch said. "We hope to get as many books to kids who need them as we possibly can."
If you would like to volunteer, or have locations that could use books for children, please contact Kimberly Harsch of Goodwill at (231) 722-7871 x 1057 or Allison Keessen of MAISD's Read Early. Read Often. at (231) 767-7285.
If you are a student who would like to volunteer for the Reading Buddies United program, contact Dominique Bunker at United Way of the Lakeshore at (231) 332-4006.
---
---
---
---
---
Quick links to other pages: