Helping people prepare for, find, and keep good jobs is what Goodwill is about.
0
total people served in 2022
0
people placed into jobs within area businesses
0
program participants who worked and earned paychecks at Goodwill
Sep 13, 2019
Success Story
Joel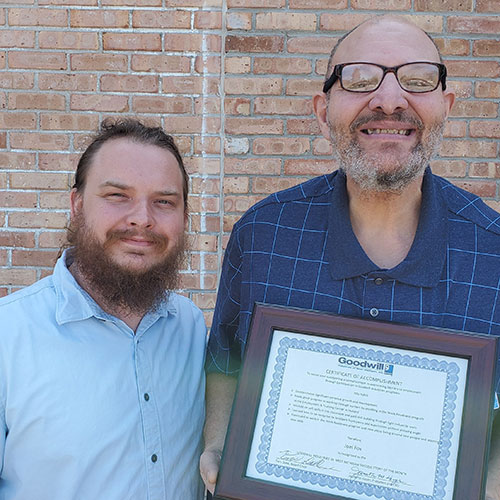 Joel wanted to work and be self-sufficient, but he had difficulty regulating his anger. "I was having too many angry behaviors," Joel said of his struggle. He tried working in the past but would become uncommunicative or lash out when receiving feedback from supervisors or peers.
Joel knew he needed help and enrolled in Goodwill's Work Readiness program at the Employment & Training Center in Holland. At Goodwill, Joel had both "soft skills" classroom training as well as paid skill-building training performing light industrial work contracted from local manufacturers.
Working with a supervisor and co-workers Joel learned a new way of communicating and how to be more responsible for his actions. His case manager coached him on how to manage his emotions. "Since coming to Goodwill, Joel has learned how to be more receptive to feedback from his peers and supervisors," said Case Manager Matt Cashbaugh. "He learned healthy coping skills and is now able to work as part of a team."
Joel continues to attend the Work Readiness program twice a week. Once apprehensive, Joel is now eager to work each day. Joel enjoys being around new people and learning new skills and is willing to try any new jobs that come his way without hesitation.
"The staff at the Employment & Training Center has really helped me do a good job while I am here," Joel said. "Goodwill has helped put my life back on the right track and helped me be able to cope with my emotions and get along with new people."
He is grateful for his work at Goodwill. "Thank you for giving me the opportunity to work here," he said. "It has really helped me change into a better person. I have had a great time working here and now want to work on finding a job in the community."
Joel's advice for anyone else who would like to follow his example: "Keep trying and you may need to work on some things like I did, but keep your head up and try to stay on the right path."
---
---
---
---
---
Quick links to other pages: