Helping people prepare for, find, and keep good jobs is what Goodwill is about.
0
total people served in 2022
0
people placed into jobs within area businesses
0
program participants who worked and earned paychecks at Goodwill
Jan 28, 2020
Success Story
Cedric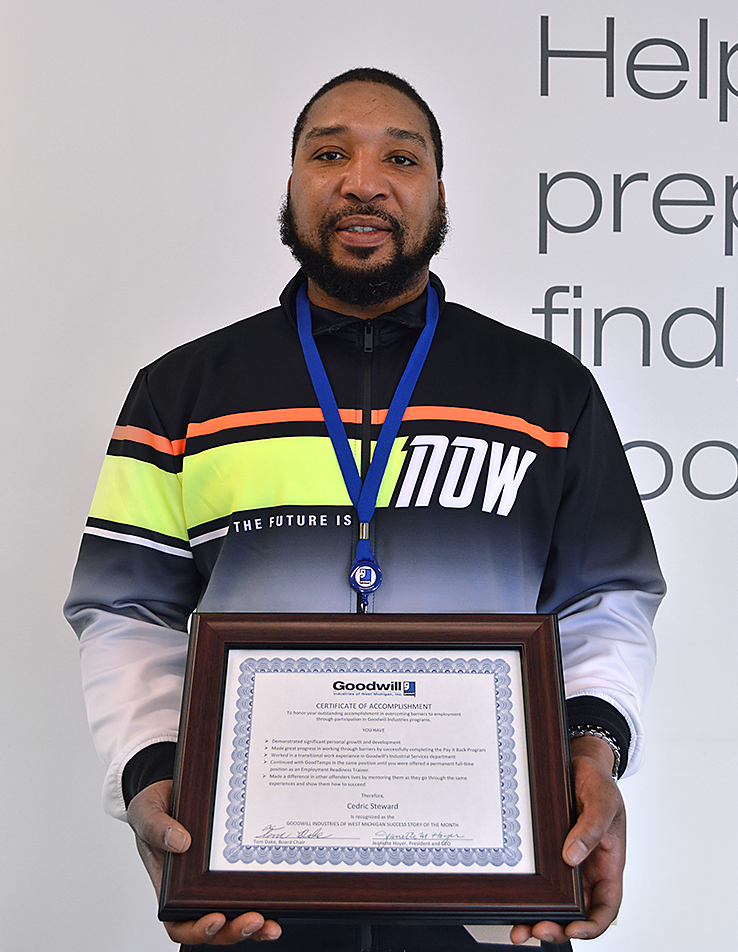 Programs: Pay It Back and Work Experience Training
Life is all about choices. This is Cedric's mantra. After his fourth incarceration, Cedric woke up one day and made a conscious choiceto change his life. In February of 2019 he began that change at Goodwill as a participant in the Pay It Back program.
Cedric held jobs prior to incarceration but was always lured back into life on the streets. "My life was full of ups and downs due to living the fast life," he said.
Pay It Back is a work-release program. Through a partnership between Goodwill and the County of Muskegon, inmates earn time off of their sentence by working at Goodwill and other partner organizations. As part of the program, Cedric was enrolled in Goodwill's Work Experience Training in Goodwill's Industrial Services Centerwhere he developed valuable work skills while earning a paycheck. Cedric learned various light industrial tasks such as packaging and assembly work contracted with area businesses. With the support and guidance of Goodwill staff, Cedric was re-acclimated to the pace and demands of work.
After several weeks in the program Goodwill Vocational Skills Trainer Marie Nickoloff recognized Cedric's incredible work ethic. "He is such a hard worker," she said. "We put him on grinding, which is very physically demanding and he didn't have a single complaint. He just happily did his job."
When Cedric was released from jail in July, GoodTemps temporary staffing extended his work at Goodwill's Industrial Services Center as a part-time temporary worker. His supervisors started to notice that Cedric was setting an example for other program participants.
"Cedric is a very hardworking man who remains humble," Habilitation Trainer Miranda Heiss said. "He became a success all on his own by just working his hardest and asking for nothing in return."
Over the next month, Miranda recognized he began mentoring others who were coming to Goodwill through the Pay It Back program. This, Cedric said, is the difference between his work before his choice to change his life, and his work now at Goodwill. He now feels accountable to more than just himself. "I see other guys from jail watch me go to work every day," he said. "I want them to think that's where it's at!'"
One month into his temporary assignment, Cedric's continued strong performance on the job earned him a full-time position as a Goodwill employment readiness trainer. In this position, he trains other ex-offenders on the same light industrial jobs he performed before his promotion. He dispenses advice along the way. "I enjoy meeting new people and helping them succeed in doing better," Cedric said.
Asked why he likes his job, Cedric said the people at Goodwill support him in a way he hasn't experienced before. "This is a good work environment full of good people who support me. I am thankful for the opportunity to change and to prove myself." In turn, Goodwill staff and co-workers are thankful for his hard work, and for sharing his knowledge and support with others.
---
Work Experience Training
The Work Experience Training program uses time-limited, wage-paying jobs that combine real work, skill development, and supportive services to transition participants rapidly and successfully into the labor market. Participants learn the customs and routines of work, establish an employment record, and generate employer references to enhance their competitiveness. Participation is through eligibility requirements determined through Offender Success, EXIT, and other programs.
---
---
---
---
---
Quick links to other pages: