Helping people prepare for, find, and keep good jobs is what Goodwill is about.
0
total people served in 2022
0
people placed into jobs within area businesses
0
program participants who worked and earned paychecks at Goodwill
Nov 30, 2019
Success Story
Hadley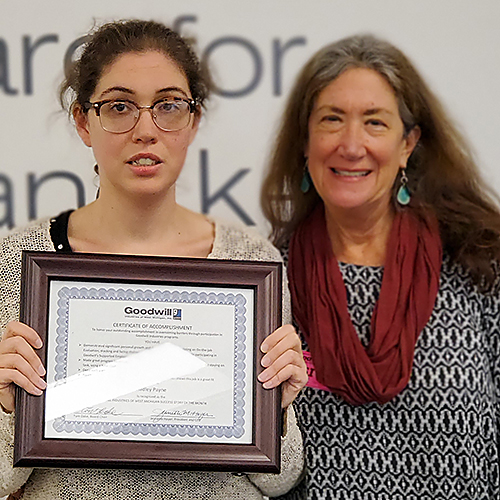 Hadley's parents were not sure if their autistic daughter could be successful in a "regular job." After finishing high school, Hadley was referred to Goodwill's Supported Employment program by Michigan Rehabilitation Services (MRS) to explore her capabilities.
When she came to Goodwill, Hadley had very limited work experience. "She loves volunteering, but she never held a real job." said Goodwill Employment Specialist Tabatha Glezman. Together, Hadley and Goodwill would change that.
Tabatha set up a job evaluation for Hadley at the Shop-N-Save Food Center in Ludington. During the evaluation, Tabatha worked with Hadley to learn how to face shelves which meant bringing product forward to make shelves look neat and full. As she learned, Hadley's ability to stay on task and perform the job requested were assessed. She worked hard. Within one month Hadley secured employment in the stocking department at Shop-N-Save where she continues to stock and face shelves.
After she was hired, Tabatha worked with her Shop-N-Save supervisor to set hours that worked best for Hadley who lives with her parents. Along with Goodwill services, Hadley was assigned job coaching services through partner organization Michigan Rehabilitation Services. The job coach assisted Hadley with staying on task, understanding break times, and learning how to use the time clock. She did so well, that after one month, she no longer needed the job coach.
Even though Hadley did her job well, she sometimes had difficulty interacting appropriately with others. Tabatha worked closely with Shop-N-Save and Hadley's mother Mary Ann to learn how to help Hadley when she became upset. This extra investment from Hadley's employer and family has been instrumental in her success and she continues to do very well.
"She comes home and expresses she liked her job," Mary Ann said. "She is happy because it allows her to see many people in her community and they always tell her she's doing a good job. I believe it makes her feel productive."
Tabatha still checks in on Hadley from time-to-time and finds Hadley happy in her position and always working hard.
"It seems this new position is a perfect fit for Hadley," Tabatha said. "She gets high praise from her employer and coworkers. They love the work that Hadley is doing."
Hadley's parents now have every confidence in their daughter's abilities. Mary Ann says this is thanks to Goodwill. "Goodwill believed in her ability to be successful on the job even when I had doubts."
---
Supported Employment
Targeted primarily toward people with developmental disabilities or mental impairment, this model of service provides one-on-one training and on-going support for a successful transition to community-based employment. The program combines community job development, job coaching, and long-term follow-up to maximize employment potential. Participants are referred through Michigan Rehabilitation Services.
---
---
---
---
---
Quick links to other pages: