Helping people prepare for, find, and keep good jobs is what Goodwill is about.
0
total people served in 2022
0
people placed into jobs within area businesses
0
program participants who worked and earned paychecks at Goodwill
Apr 21, 2023
Success Story
LaDarrin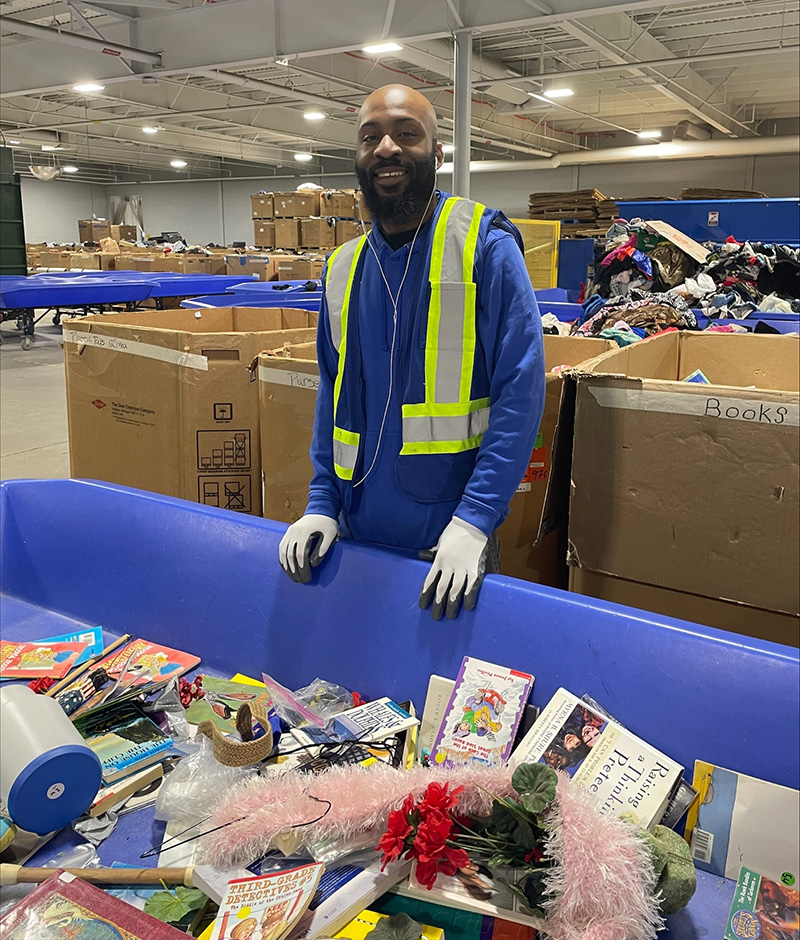 LaDarrin walked into Goodwill's Career Center seeking help in securing a job. "My life was uncertain. I was on probation and I had been unemployed since 2019," LaDarrin said. Additionally, LaDarrin has multiple sclerosis which limits his leg strength and restricts his lifting abilities. "It slows me down," he said. "I can't do any heavy lifting, but I knew I could handle a part-time job. I was looking for resources and help, and I knew Goodwill would put me on a stable ground to work."
After meeting LaDarrin and learning more about his goals and situation, Goodwill Career Coach LaTonya Burks assessed he was a perfect candidate for GoodWorks, a program aimed at individuals who have had long gaps in employment and need a little extra support before securing permanent employment.
The Work Experience Training component of the program — working in Goodwill's Industrial Services department — helped re-acclimate LaDarrin to the world of work, as well as determine what he was physically capable of.
"The work experience really helped me see what I could handle physically," LaDarrin said. The classroom instruction portion of the program taught him communication and interpersonal skills, résumé writing, job search techniques, interview skills, and more.
"LaDarrin is a hardworking man who just needed to discover what he was capable of," LaTonya said. "When you are out of work and have barriers to maintaining long-term employment, it is easy to give up on yourself. LaDarrin never gave up."
Upon completion of the three-week program, LaDarrin applied for a temporary assignment at the Goodwill Outlet Center as a retail salvage worker and got the job. After a three-month trial, LaDarrin was permanently hired in. In his role, he is responsible for sorting and recycling donated goods and materials, as well as the safe operation of the trash and compactor machines.
"I like the people I work with and I appreciate the experience I have gained," LaDarrin said. When asked how his life has changed because of his work with Goodwill and the GoodWorks program, LaDarrin confidently answered, "I am more stable for my kids. I am more organized. I am more of a people person now and not as shy. I want to continue to learn new things like getting fork lift training."
When asked for advice he would give to another person who was struggling to find or keep work, he replied, "Stay strong, and stay active. Keep God first." LaDarrin added, "Thank you all for taking me in and giving me a chance."
---
GoodWorks
GoodWorks is a three-week program designed to improve employability skills and work behaviors to ensure successful long-term job placement in the community. Participants may be referred internally or by a community partner. GoodWorks is aimed at individuals who have had long gaps in employment and/or those who need extra support before securing permanent employment. A career coach works one-on-one with each participant to create a customized plan to meet their employment goals. The program consists of two main parts. Part one involves classroom instruction including topics such as communication and interpersonal skills, mock interviews, résumé writing, job search, interview preparation, job retention, budgeting, and more. Part two involves paid work experience training in Goodwill's Industrial Services Center doing work such as packaging and assembly for Goodwill's contract partners.
Work Experience Training
Work Experience Training uses time-limited, wage-paying jobs that combine real work, skill development, and supportive services to transition participants rapidly and successfully into the labor market. Participants learn the customs and routines of work, establish an employment record, and generate employer references to enhance their competitiveness. Participation is through eligibility requirements determined through Offender Success, EXIT, and other programs.
---
---
---
Quick links to other pages: