Helping people prepare for, find, and keep good jobs is what Goodwill is about.
0
total people served in 2022
0
people placed into jobs within area businesses
0
program participants who worked and earned paychecks at Goodwill
Mar 22, 2023
Success Story
Tasha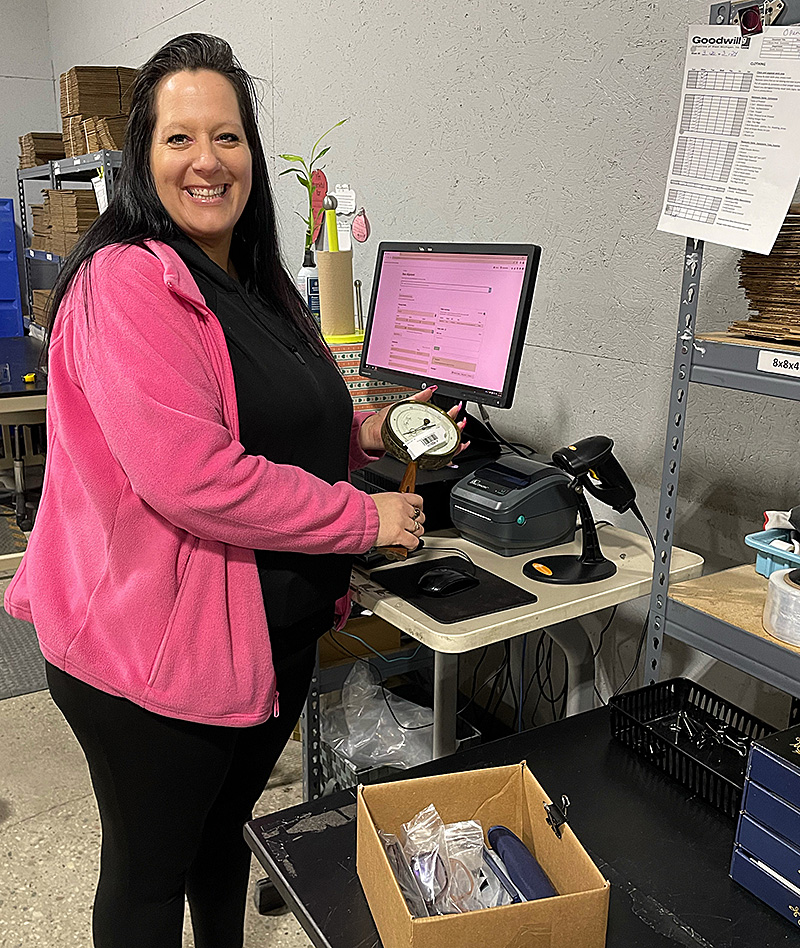 At the age of 12, Tasha was introduced to drugs by her father. This began a 20-year battle of substance abuse with heroine, methamphetamine, and cocaine. Her life changed forever when she was sentenced to spend 2-15 years in prison.
"I wasn't the mother or life partner I wanted to be. Just before committing my crime, I hit rock bottom and tried taking my own life. I was living a life that was controlled by my addiction. I was tired. Going to prison saved my life," Tasha said. "In prison, I became motivated. Women who were sentenced to life in prison helped me see that I could change and leave prison a new person. I had a chance they didn't have and they helped me see I needed to take responsibility for my choices and take control of my life. They were mentors to me."
Due to the terms of her parole, Tasha was not allowed to live with her children and fiancé right away after being released from prison. She had some restrictions in place and had to earn her way back to the family home. "That was really hard, but necessary. I knew I had changed, but I had to show my family and parole agent through my actions and time that I was different."
Tasha knew her kids and fiancé were reluctant to trust that she wouldn't go back to her old way of life. She committed to doing what she could to provide for her family while working on the new life she was putting together. She spent every allowable moment with her family and cooked meals that her fiancé would pick up so her family would have a meal cooked by "Mom." She enrolled in support classes through local recovery agency, Fresh Coast Alliance, to make sure she was surrounding herself with positive peer support.
Tasha was referred to the Offender Success program and worked with Goodwill staff to set goals for herself regarding employment and life. She talked openly about her journey and regularly sought guidance from her support network at Goodwill and in the community.
"Tasha likes fashion so working in retail seemed like a good place to start," said Justice-Involved Program Manager Dina Butler. Tasha enrolled in Goodwill's Work Experience Training and was placed in Goodwill's E-Commerce division where she learned how to post items for sale online. She was hesitant to try because it involved using a computer. Goodwill Success Coach Kristen Kappas provided her with computer training. Tasha's skills and confidence grew and at the end of the trial work experience she applied for a part-time position that was open in the shipping department. She was awarded the position and has since been promoted to full time. "I love my job!" she said. "The atmosphere is so positive. My kids love that I have money to spend on them. In my addiction, I would hide money and rob my fiancé and kids of money that was meant for the family. Now they see that I contribute to our family."
When asked what Tasha brings to the E-Commerce team, Manager Dani Bunda said, "The positivity she brings each day is rare and irreplaceable. She faces each day with a great attitude, even when things are hard, she gets it done. She brings people up and we are so thankful for that!"
Tasha is working to ensure her story is able to help others who share the same struggles in overcoming addiction. She recently began the enrollment process to start classes at Muskegon Community College to pursue her goal of becoming a certified recovery coach. When asked what advice she would give someone just starting out on a new path, Tasha said, "Keep your head above water and always stay motivated. Stay plugged in to positive things. And most importantly, speak; don't be embarrassed about your story. We all make mistakes."
---
Offender Success
Offender Success program is a state-wide strategic approach to creating safer neighborhoods and better citizens through the delivery of a seamless plan of services, programming, support, and supervision for prisoners re-entering the community. Program participants are referred by the Michigan Department of Corrections Parole Board.
Work Experience Training
Work Experience Training program uses time-limited, wage-paying jobs that combine real work, skill development, and supportive services to transition participants rapidly and successfully into the labor market. Participants learn the customs and routines of work, establish an employment record, and generate employer references to enhance their competitiveness. Participation is through eligibility requirements determined through Offender Success, EXIT, and other programs.
---
---
---
---
---
Quick links to other pages: