Helping people prepare for, find, and keep good jobs is what Goodwill is about.
0
total people served in 2022
0
people placed into jobs within area businesses
0
program participants who worked and earned paychecks at Goodwill
Nov 30, 2022
Employee Spotlight: Trann Sneed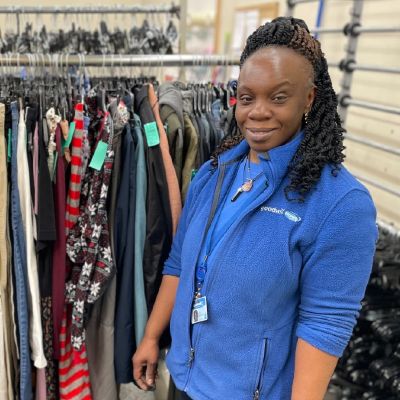 Retail Production Worker
Years of service: 18
Please join us in celebrating Trann Sneed our Employee Spotlight Feature. Trann brings such joy to her work and we are so grateful to have her on the team. Trann works in our Norton Shores retail department as a retail production worker. Thank you, Trann, for being such a valuable asset to the team. We are thankful for all you do!
Trann was one of the first employees at that store when it opened in 2004 and is the only original staff member still working at that location. Trann is one of the top textile producers in Goodwill and we have been incredibly fortunate to have her with us for over 18 years. Trann began her career with Goodwill as a program participant, then transitioned into part time, and eventually full time in 2018. When Trann was promoted to full time in 2018, she purchased her first home. You will notice almost immediately when you sit down with Trann the kindness in her eyes. Trann is an inspiration to others and that shows in the friendships she's kept with former and current Goodwill employees. She said she's learned so much over the years, and until her role with Goodwill, she never realized the stories that clothes can tell.
When we asked Trann who her greatest inspiration was, she mentioned without hesitation her maternal grandmother, Gertrude Brooks. She said her grandmother was an amazing woman and not a day passes where she doesn't think of her. Her grandmother would often say that "the work you do will speak for you." We love that and think that is a great motto to live by. When Trann isn't at work, she can be found enjoying chocolate, participating in pole fitness, and researching any and all aspects of history.
---
---
---
---
---
Quick links to other pages: