Helping people prepare for, find, and keep good jobs is what Goodwill is about.
0
total people served in 2022
0
people placed into jobs within area businesses
0
program participants who worked and earned paychecks at Goodwill
May 19, 2022
HydroBlox Technologies and Goodwill Industries of West Michigan announce plastic recycling partnership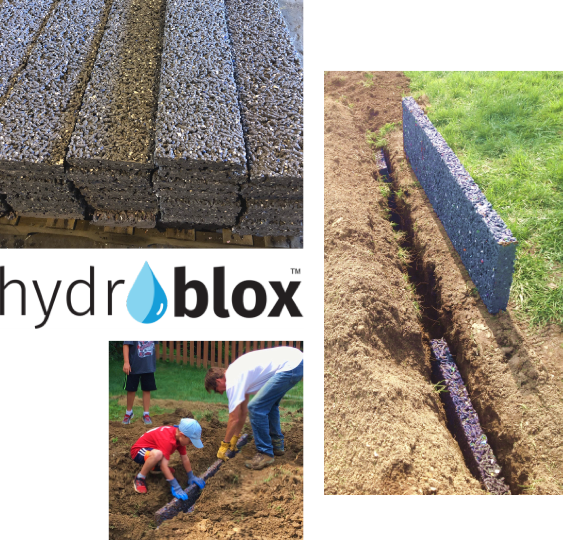 PRESS RELEASE
PITTSBURGH, Pa. and MUSKEGON, Mich. — HydroBlox Technologies and Goodwill Industries of West Michigan (GIWM) announce a new joint venture in plastics recycling. Site selection and equipment provisioning for a new Muskegon-area manufacturing facility are currently underway.
"In keeping with Goodwill's focus on sustainability and the triple-bottom line, we are excited to launch a new business line that diverts landfill-bound plastic, while also providing good-paying jobs," GIWM President and CEO Jeanette Hoyer said.
Based in Pittsburgh, HydroBlox Technologies manufactures products that aid in stormwater drainage infrastructure and are made from 100% recycled plastic. Manufactured "planks" or "noodles" consist of high-strength, exceptionally porous plastic that can filter and direct the flow of water. They are used in road and trail projects, retaining walls, hydroponic farms, solar fields, green roofs, and other applications.
"We are thrilled to begin what I understand is a first-of-a-kind joint venture for Goodwill that will not only divert plastic from landfills, but bring new jobs and training opportunities," said HydroBlox Technologies CEO Ed Grieser.
"HydroBlox checks all the boxes for us in terms of evaluating a new startup," GIWM Business Development Director Nick Carlson said. "Recycling unwanted plastic into useful, environmentally friendly stormwater products will reduce Goodwill landfill fees, provide good jobs, while generating revenue to support Goodwill employment and training programs."
HydroBlox Technologies uses low-grade, commingled, and mixed color plastic that typically gets landfilled. The manufacturing process uses no glue, binders, or any hazardous materials in the process. Additionally, the process does not exhaust fumes or wastewater. The core product is a plank, that when buried in the ground, transports water without the typical problems of becoming impacted with silt, sand, or soil. Planks are used for drainage, road bases, retaining walls, hydroponics, solar fields, and many other applications. Additionally, HydroBlox's green roof product allows for plant growth without soil.
"What separates HydroBlox from virtually every other 'green' product or recycling facility is that we have properly commercialized the output from our conversion technology," Grieser said. "In other words, the output of our planks and noodles out-perform the existing products we are replacing at a lower cost. Customers may buy HydroBlox products because they believe in recycling, but they return as repeat customers because of our product performance."
For more information on HydroBlox Technologies, visit www.hydroblox.com
---
---
---
---
---
Quick links to other pages: