Helping people prepare for, find, and keep good jobs is what Goodwill is about.
0
total people served in 2020
0
people placed into jobs within area businesses
0
program participants who worked and earned paychecks at Goodwill
Apr 21, 2021
Success Story
Jordan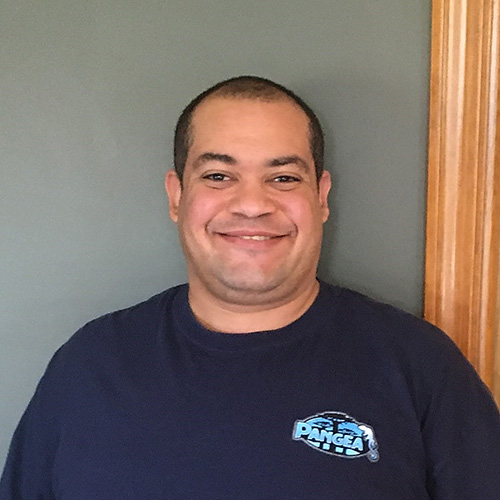 Jordan was referred to Goodwill's Employment and Training Center (ETC) in Holland, by Community Mental Health of Ottawa County, for the purpose of developing his job skills. Enrolled in Goodwill's Work Readiness program, Jordan received paid skill building opportunities performing light industrial work outsourced from local businesses.
Jordan is a person with several conditions that had made it difficult for him in past experiences to be successful in securing community-based employment.
"I struggled a lot with my behavior issues where I was not always the nicest person," Jordan said. "I struggled not setting people off on purpose."
While working at the ETC, and under the guidance of his Goodwill Case Manager Matt Cashbaugh, Jordan also developed his social and communication skills. He was taught a variety of coping skills to shift his mindset, and improve his attitude and decision-making abilities.
"I used to be mean and struggle with being mature," Jordan said. "But now I am more independent and nice, and people are willing to trust me. I have grown up to be a good worker and I have realized how to be an independent adult."
As he progressed, Jordan acquired a strong desire to graduate into community-based employment and was enrolled in Goodwill's Supported Employment program to assist him in that goal.
In 2020, Goodwill developed a partnership with Pangea Reptile, a local pet company that was looking for some help assembling reptile cages at their production facility. Matt and his team arranged for three ETC workers to be transported to Pangea to work three days a week from 9:30 a.m. to 2:30 p.m., accompanied and supervised by an on-site Goodwill job coach. Goodwill refers to these special community-based work arrangements with local manufacturers as "work enclaves."
"Jordan was immediately excited about this new opportunity," Matt said. "He's been successfully working in the enclave at Pangea since August. He mostly works on substrate packaging which involves measuring and weighing out appropriate quantities of materials and sealing them."
"I like how I get to do a lot of new tasks each time that I am there," Jordan said. "It gives me some good exercise and helps build my stamina. I really like the Pangea employees and I get the sense that they care about me and the Goodwill crew a lot. We work really hard to make sure we meet their deadlines. I take my time and listen to everything that they say and I have a good attitude and am open to whatever they ask me to do."
"Since working at Pangea Jordan has really taken responsibility for himself," Matt said. "He is the de facto leader of the enclave group and is always willing to take on any task that Pangea asks of him. Pangea will usually seek out Jordan for special projects because of this willingness."
Jordan still occasionally struggles with inappropriate reactions, but the frequency of his disruptive behavior has significantly decreased and he maintains good relationships with his coworkers.
I thank Goodwill for helping me to have this job and thank every staff person who worked so hard at making me working at Pangea a possibility," Jordan said. "I really, really appreciate it."
---
Work Activity / Readiness Programs
These programs are designed to provide psychosocial / vocational rehabilitation for persons with developmental disabilities and mental impairments who need facility-based training and employment services, or who choose not to seek community-based employment. Participants may select from paid vocational training, basic skill building, community-based education, and volunteer opportunities. Participants are referred from HealthWest, MAISD, local school districts, and other referral sources.
Supported Employment
Targeted primarily toward people with developmental disabilities or mental impairment, this model of service provides one-on-one training and on-going support for a successful transition to community-based employment. The program combines community job development, job coaching, and long-term follow-up to maximize employment potential. Participants are referred through Michigan Rehabilitation Services.
Your support fosters new programs and services!
As we reach the end of another challenging year we reflect with gratitude on our resiliency and recovery, and the special help of donors. Not only did we survive another year of COVID-19, staff shortages, and uncertainties, we have several new initiatives to celebrate and, with you, look forward to their continued growth.
Would you be able to make a financial gift of $200, $100, $50, or the amount of your choosing, to support our effort of changing lives through the power of work? We are so grateful for your support.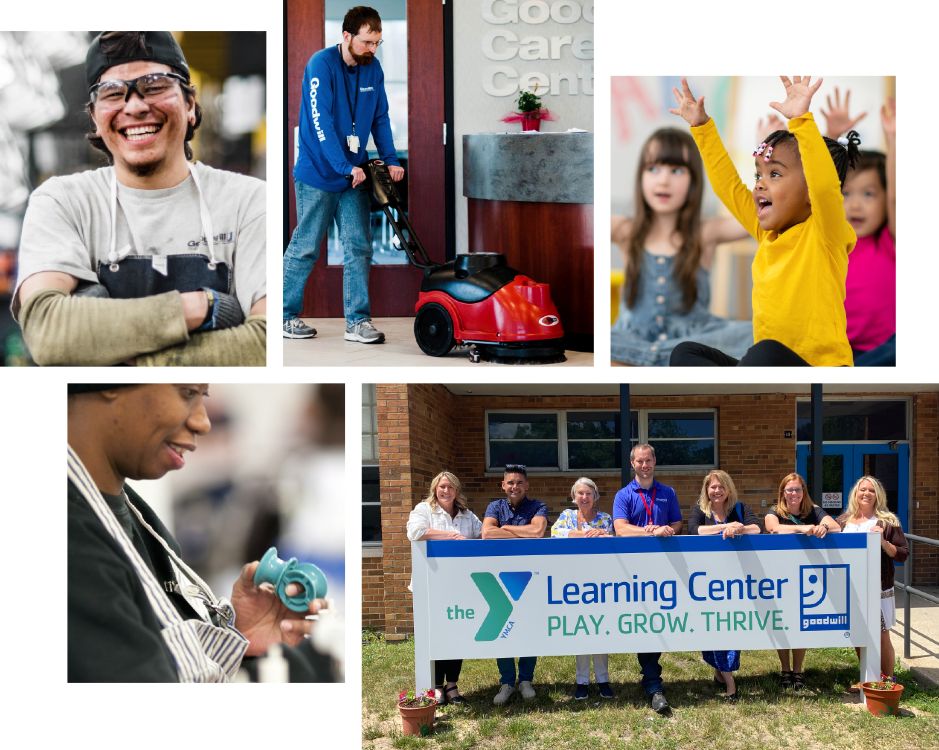 ---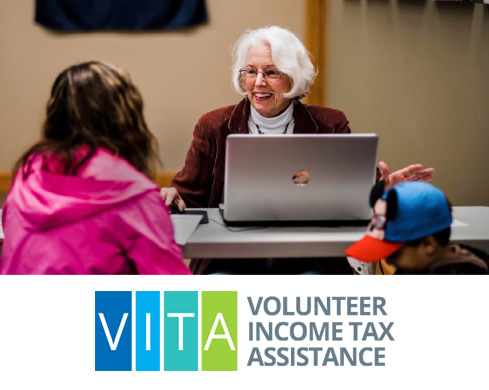 Give your time. Change a life.
Become a Goodwill VITA volunteer!
Goodwill VITA (Volunteer Income Tax Assistance) volunteers provide free tax assistance to low- to moderate-income workers and families eligible for significant state and federal tax credits.
Make a difference! Help working people claim and keep all the refunds they are entitled to.
No accounting experience required! Volunteers receive FREE IRS training and certification.
Flexible hours! You can volunteer for day, evening, and/or Saturday hours in any of our tax-prep sites.
Call 231-722-7871, ext. 8482 for more information.
---
Success Story: Bruce
After spending 30 years in prison, Bruce returned to a town he didn't recognize and faced the daunting task of starting a new life. Goodwill's Offender Success (OS) program worked with Bruce to define and achieve the goals he set for himself.
"Thanks to Goodwill, I have been given a new opportunity," he said.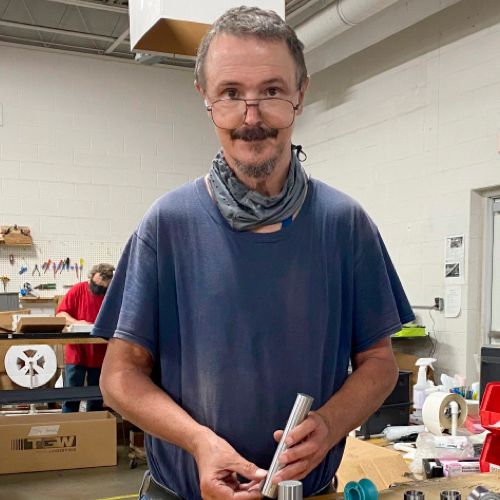 ---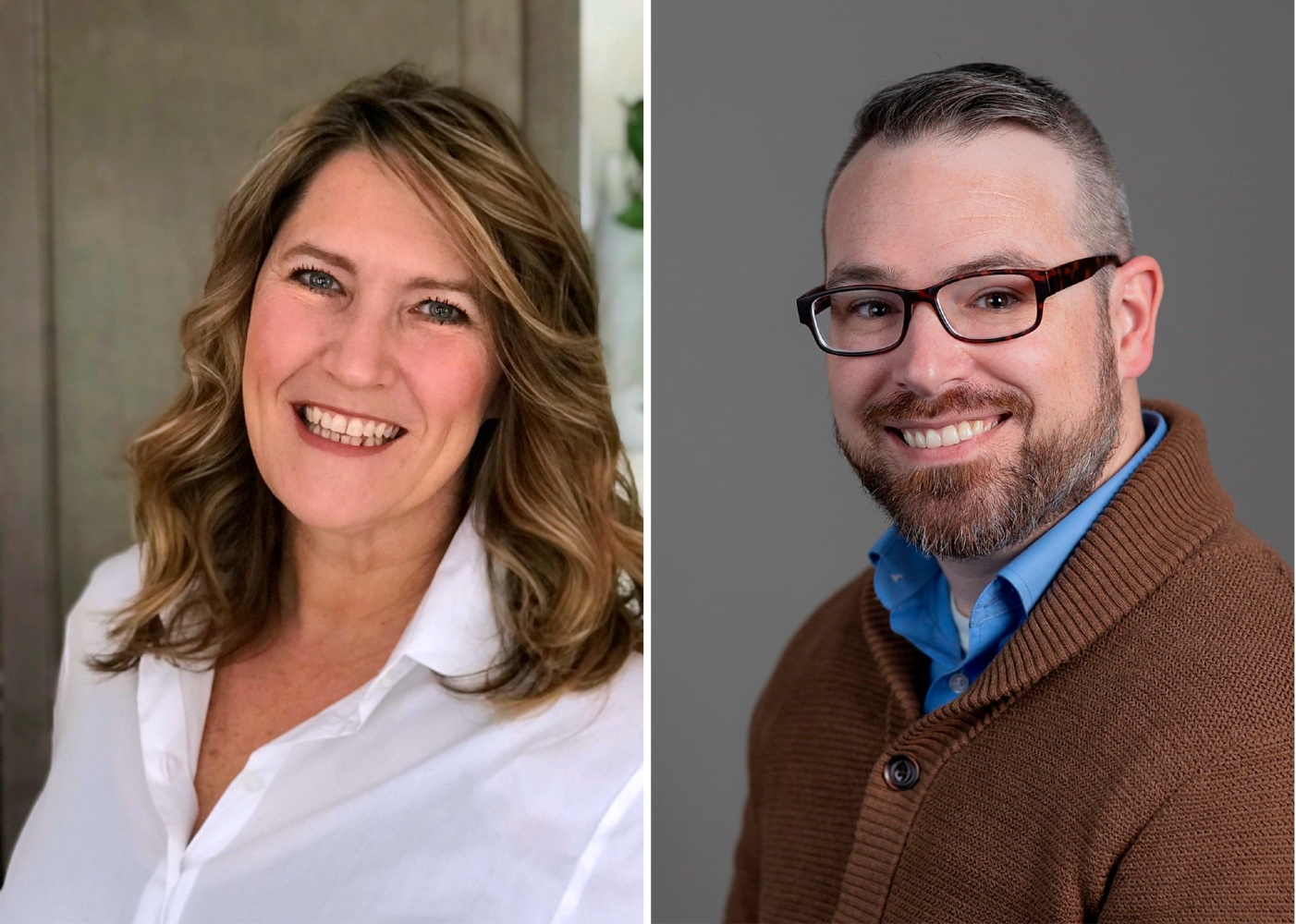 Senior leadership changes announced
Kristin Garris was recently promoted to chief workforce officer, a new position that oversees Goodwill's workforce development and human resources departments, as well as GoodTemps Staffing Solutions.
Goodwill Industries is also pleased to announce the recent hire of Nick Carlson as the agency's new business development director. Carlson will provide operational oversight and business development of Goodwill's Janitorial Services and Industrial Services business-to-business contracts, as well as lead the organization's sustainability and recycling initiatives.
---
Virtual awards ceremony shared with community
Goodwill's Achievers of the Year in-person celebration was cancelled again this year due to the COVID-19 pandemic. We enlisted the help of Andy O'Reilly and Derek Wong from the Muskegon Channel to record a virtual event. We taped each award winner separately and safely, and then stitched them together with our video achiever profiles recorded back in March of 2020.
Congratulations to Achievers of the Year: Kawan, Tim, Quentin, and Hailey; Employer Partners of the Year: Northway Lanes, SRS Fiberglass, and McDonald's of Hart; Contract Partner of the Year: Spectrum Health; and Volunteer of the Year: Susanne McGee.
View the awards ceremony video and the individual stories from our Achievers of the Year page: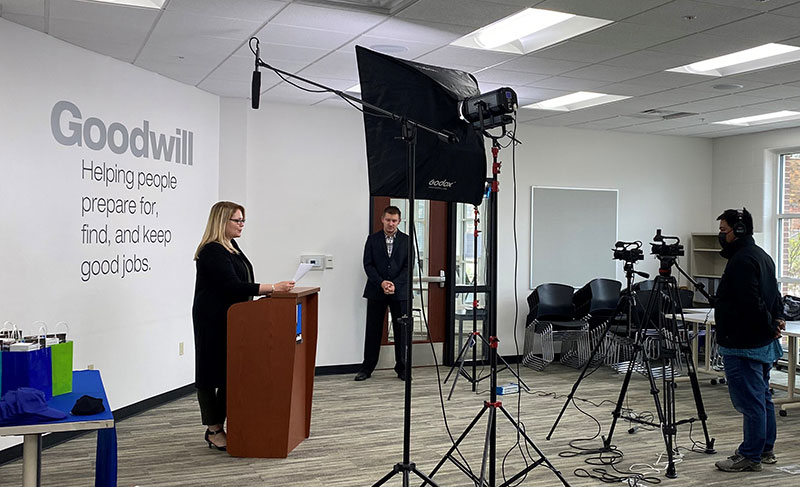 ---

Achievers of the Year
Each year we celebrate community members who overcame adversity through the power of work, and the employers who supported them.
---
GIWM named regional facilitator hub for MI Tri-Share Child Care Program
The MI Tri-Share Child Care Program is a new innovative approach to increasing access to high-quality, affordable child care for working families. The "tri-share" model splits the cost of child care three-ways — between state funding, employers enrolled in the program, and eligible employees.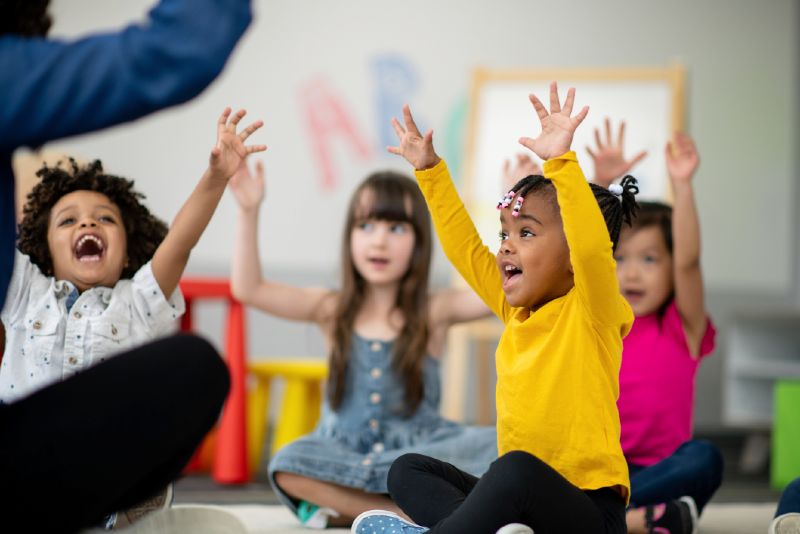 ---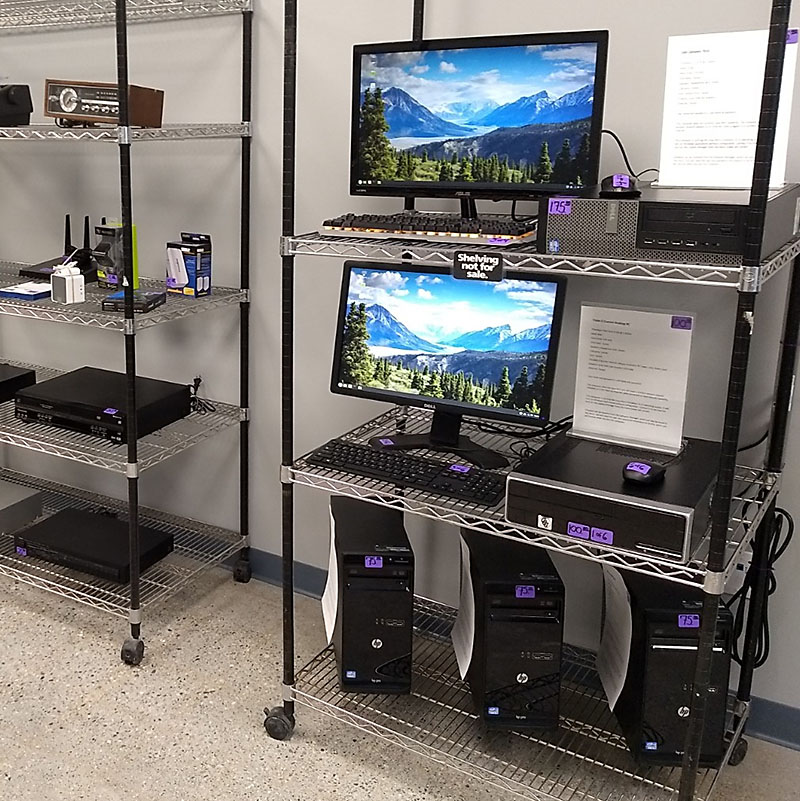 New electronics room in Apple Avenue store
On March 1, the Goodwill retail store at 1501 E. Apple Avenue opened a new "Electronics Room" in a previously unused space just off their regular sales floor.
"Previously owed desktop and laptop computers, stereo systems, speakers, TVs, DVD/Blu-Ray players, video game systems, PC parts, and more, are for all for sale at great prices," said E-Commerce Manager Adam Kragt.
"It's an excellent resource for customers," added Team Leader Clayton Burch. "Everything has been completely tested and ready to go for customers."
Check out the WZZM-TV video story with Jon Mills here:
---
View our annual report
Our 2020 annual report recognizes a year of providing community support as well as achievements in our business, our culture, and in changing lives through the power of work. The annual report also recognizes the four 2019-20 Achievers of the Year and tells their stories.
View our annual report pdf.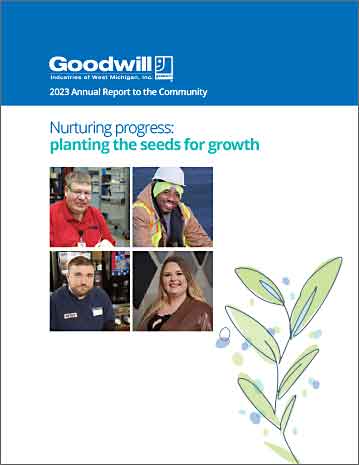 ---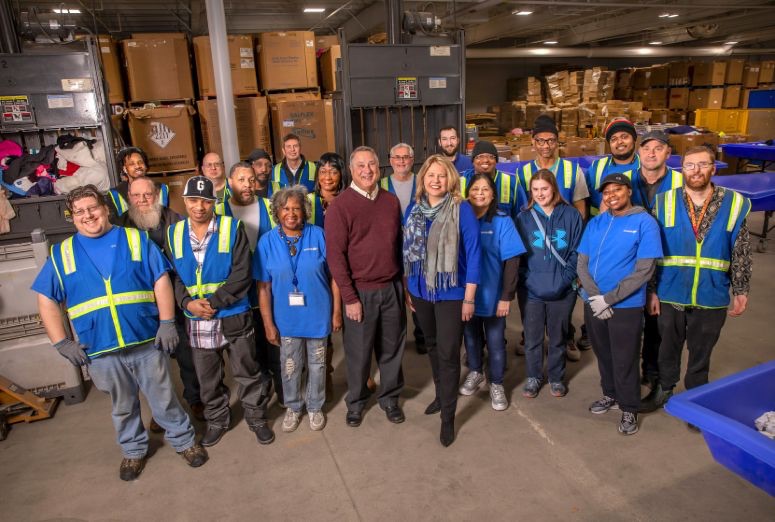 Goodwill is Committed to Diversity, Equity, and Inclusion
---
Goodwill Career Center
Currently open by appointment only. Call 722-7871.
Job search assistance
Résumé development
Career exploration
GoodTemps application
Resource assistance
Masks are required for entry.
271 E. Apple Ave, Muskegon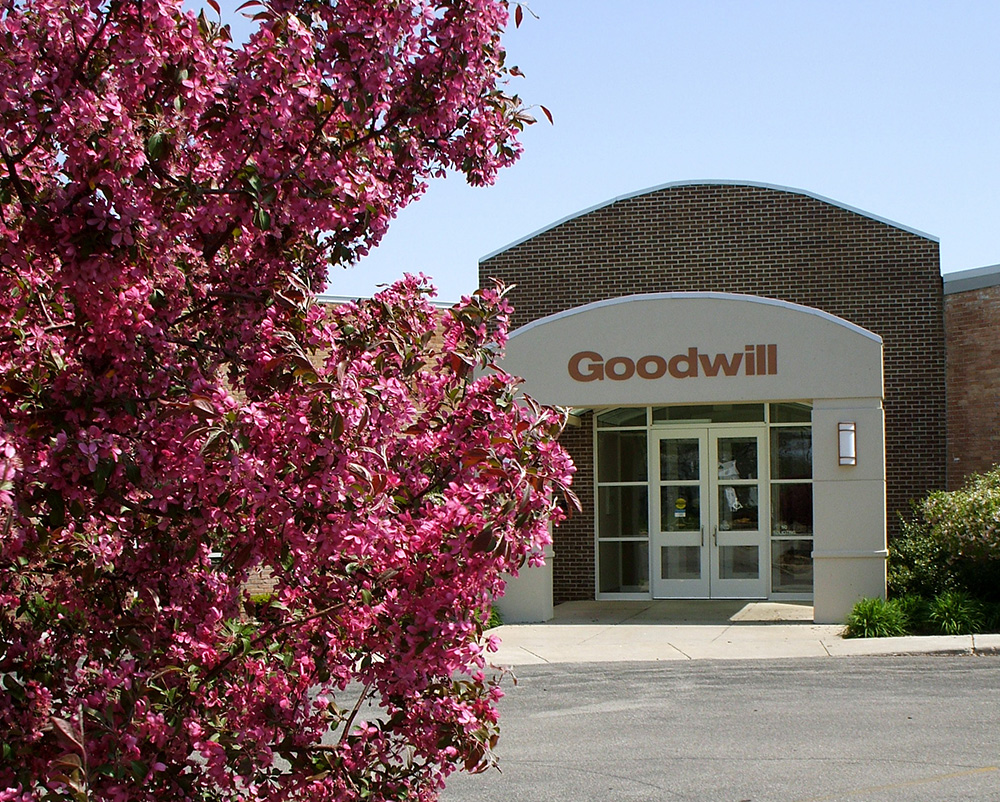 Quick links to other pages: