Helping people prepare for, find, and keep good jobs is what Goodwill is about.
0
total people served in 2019
0
people placed into competitive employment
0
program participants who worked and earned paychecks at Goodwill
Jul 19, 2019
Success Story
Ryan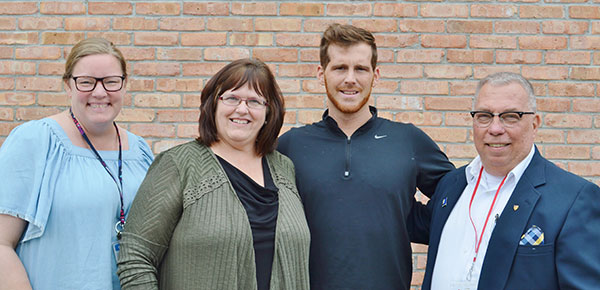 Before coming to Goodwill Ryan said his life was "a struggle and disorderly." He had just been released from prison when he was referred to Goodwill's Offender Success program by the Michigan Department of Corrections. He had no transportation and struggled with depression. "He was very quiet," Goodwill Case Manager Dina Butler recalls of Ryan's first week at Goodwill. "He was so remorseful for his choices and the impact they had on others. When he started coming to classes I think he thought everyone was going to look down on him. He kept to himself as if he were carrying a sign that said he had been to prison."
But Ryan would quickly realize he had everything he needed to be successful. "After a day or two, he started to come out of his shell," Butler recalled. "He came to realize that everyone at Goodwill wanted to help him reach his goals and that he was supported here." With that new found support, Ryan advanced through two weeks of job readiness classes and another two weeks enrolled in Goodwill's Managed Employment, a transitional paid work experience performing light assembly work in Goodwill's Industrial Services department. Each day he gained even more confidence in himself. He was always on time and utilized every opportunity to better himself.
Once through the Offender Success program, Ryan applied with GoodTemps temporary staffing agency to help him find work. Recognizing his transportation barrier, GoodTemps was able to place him with Resource Industries, a company not far from his home. He was placed as a temporary employee in January. For his entire 90-day trial period, Ryan was never late and never missed a single day. He was such an outstanding employee that Resource Industries hired him as a full-time 3rd shift CNC machine operator in April.
Ryan enjoys his job. He likes the environment he works in, the use of technology and his co-workers. Because of his excellent performance, he's even being trained to assist the supervisor. Ryan's life has changed for the better since Goodwill helped him get back into the workforce. He is very thankful. To others struggling to find work he recommends Goodwill because "the people at Goodwill are available and willing to help."
Goodwill seeks Americorps worker
Goodwill Industries is currently recruiting an AmeriCorps member to help with its Volunteer Income Tax Assistance (VITA) program. AmeriCorps is a great opportunity for a college student to help others by serving to meet critical needs of our community while also gaining professional work experience and earning money. The position begins in January and runs through July. Applications go through the Community Economic Development Association of Michigan (CEDAM).
For more information and to APPLY ONLINE visit: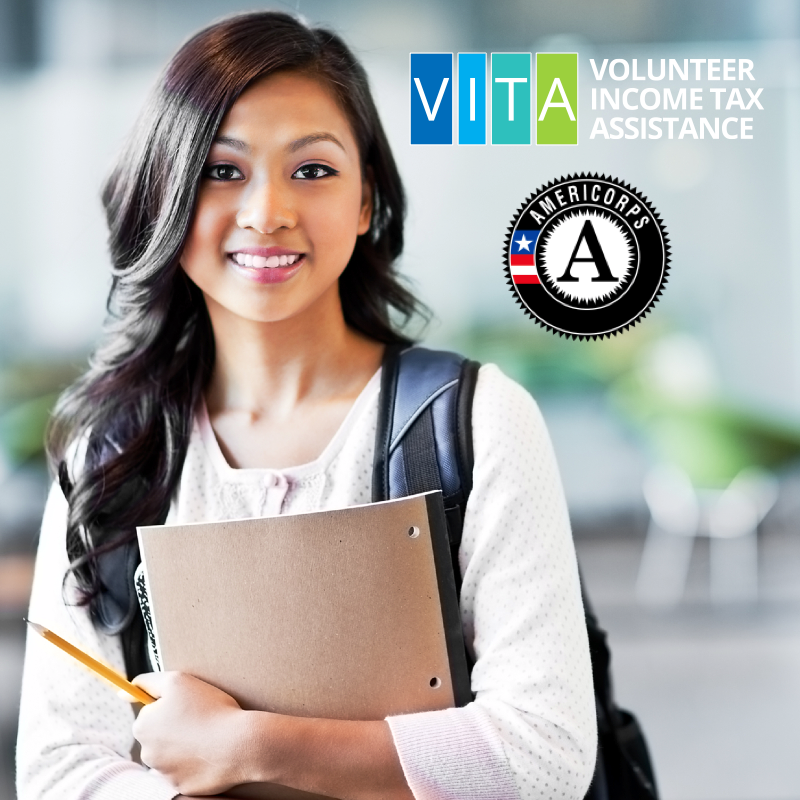 ---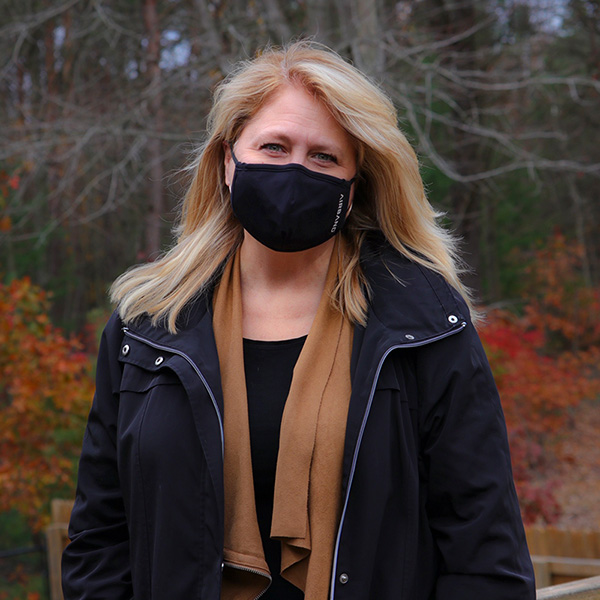 October 28, 2020
Message from the president
New No Exceptions Mask Policy
The safety of our customers and employees is paramount. With COVID-19 cases on the rise, we have implemented a new "no exceptions" mask policy effective immediately at all of our locations.
We view this new directive as a positive measure, as it strengthens our efforts to provide a safe environment, and bolsters confidence — from both our customers and employees — that our stores are a safe place to shop and work.
For the people with medical conditions that prevent them from wearing a mask, we apologize, and ask that you not shop in our stores until we are through this difficult time. We do offer an online shopping experience through www.shopgoodwill.com. We have increased our ecommerce staff to provide an expanded selection of items for sale on the site.
The no exceptions mask policy also extends to our Career Center and Employment and Training Center. Remote service options are available for persons with medical conditions who are unable to wear a mask.
On behalf of Goodwill, we thank you for your cooperation and understanding as we strive to protect the health and well-being of our customers, program participants, and employees.

Jeanette Hoyer
President and CEO
---
Give your time. Change a life.
Become a Goodwill VITA volunteer!
Goodwill VITA (Volunteer Income Tax Assistance) volunteers provide free tax assistance to low- to moderate-income workers and families eligible for significant state and federal tax credits.
Make a difference! Help working people claim and keep all the refunds they are entitled to.
No accounting experience required! Volunteers receive FREE IRS training and certification.
Flexible hours! You can volunteer for day, evening, and/or Saturday hours in any of our tax-prep sites.
Call 231-722-7871, ext. 8482 for more information.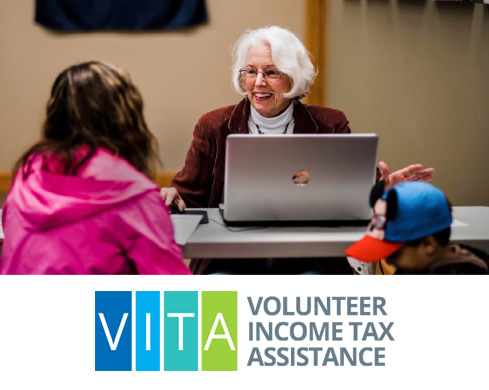 ---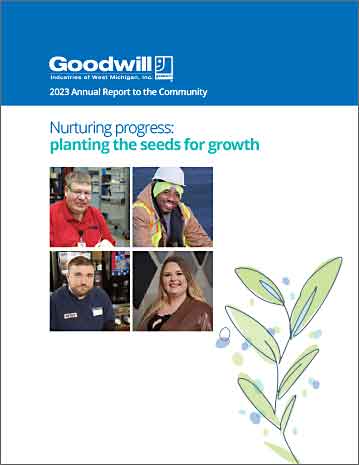 View our annual report
Although 2019 seems like a distant memory and reflects a vastly different landscape from where we are now, we would be remiss not to recognize this important year of growth and achievements in our business, our culture, and in changing lives through the power of work.
View our annual report pdf.
---
Goodwill is Committed to Diversity, Equity, and Inclusion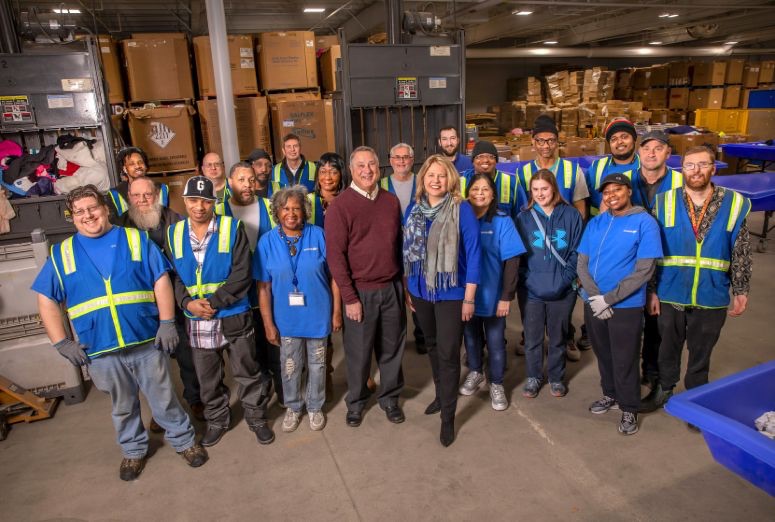 ---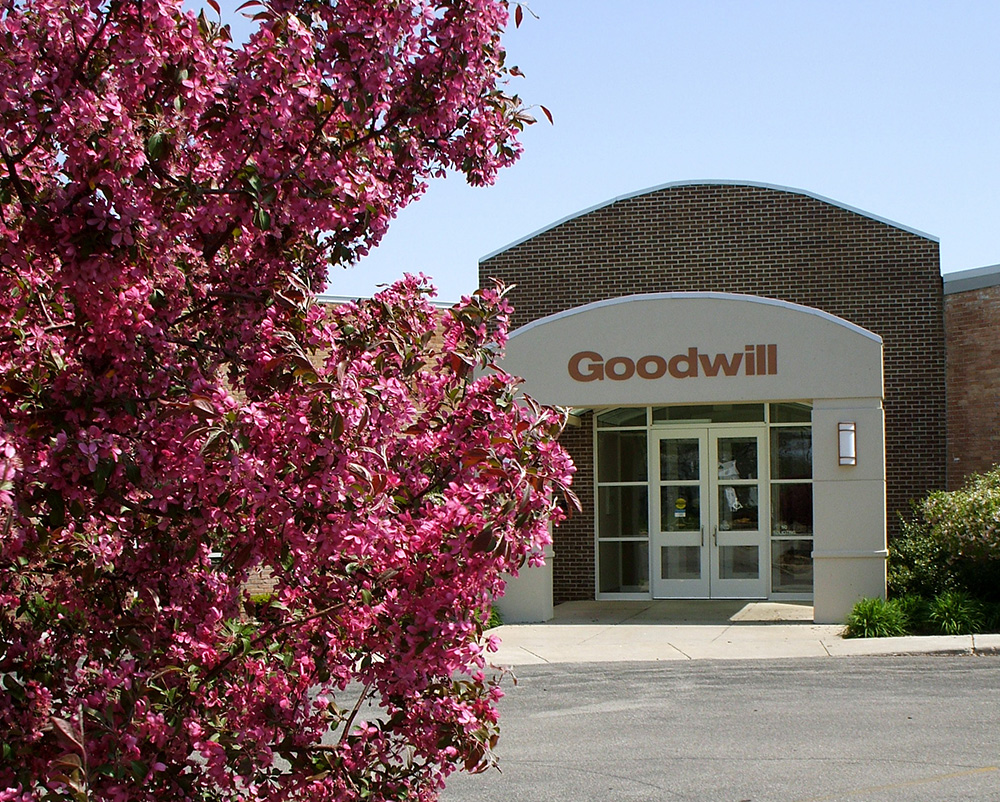 Goodwill Career Center REOPENED
M-F: 10am – 3pm or by appointment. Call 722-7871 to check in before entry.
Job search assistance
Résumé development
Career exploration
GoodTemps application
Resource assistance
Masks are required for entry.
271 E. Apple Ave, Muskegon
---
Message from the president
We need to talk about the protests that are happening in our country and the underlying issue of racism. I write this because it is my responsibility as president to promote the vision and values of our organization.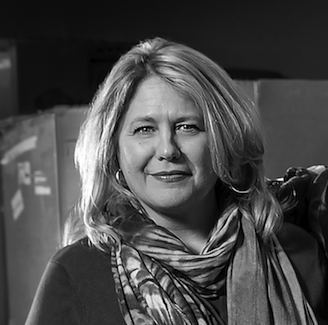 ---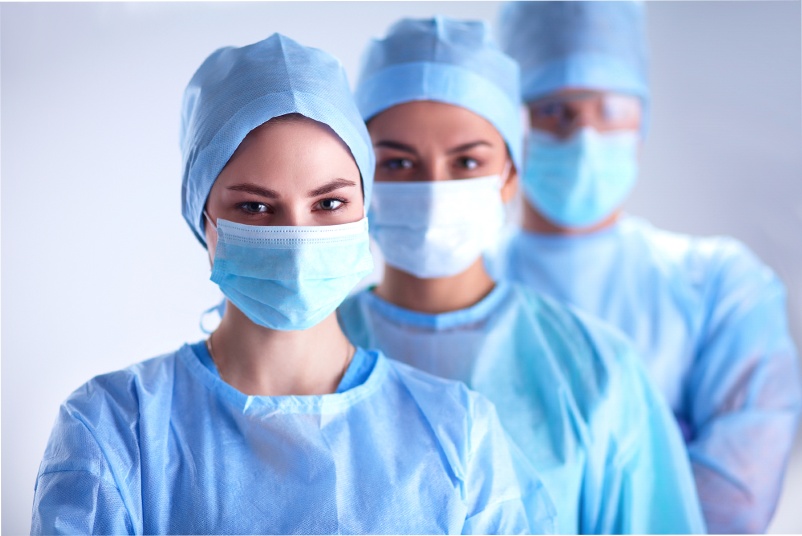 Goodwill Industries partners with local hospitals to collect and distribute protective gear for health care workers
Goodwill reopened seven of its donation drive-thrus to serve as designated donation drop-off sites for urgently needed personal protective equipment (PPE).
---
Success Story: Cedric
Life is all about choices. This is Cedric's mantra. After his fourth incarceration, Cedric woke up one day and made a conscious choiceto change his life. In February of 2019 he began that change at Goodwill as a participant in the Pay It Back program.
Cedric held jobs prior to incarceration but was always lured back into life on the streets. "My life was full of ups and downs due to living the fast life," he said.
As part of the program, Cedric was enrolled in Goodwill's Work Experience Training in Goodwill's Industrial Services Centerwhere he developed valuable work skills while earning a paycheck. Cedric learned various light industrial tasks such as packaging and assembly work contracted with area businesses.
Learn about Cedric's full progression from program participant to full-time employment readiness trainer at Goodwill where he mentors others following the same journey.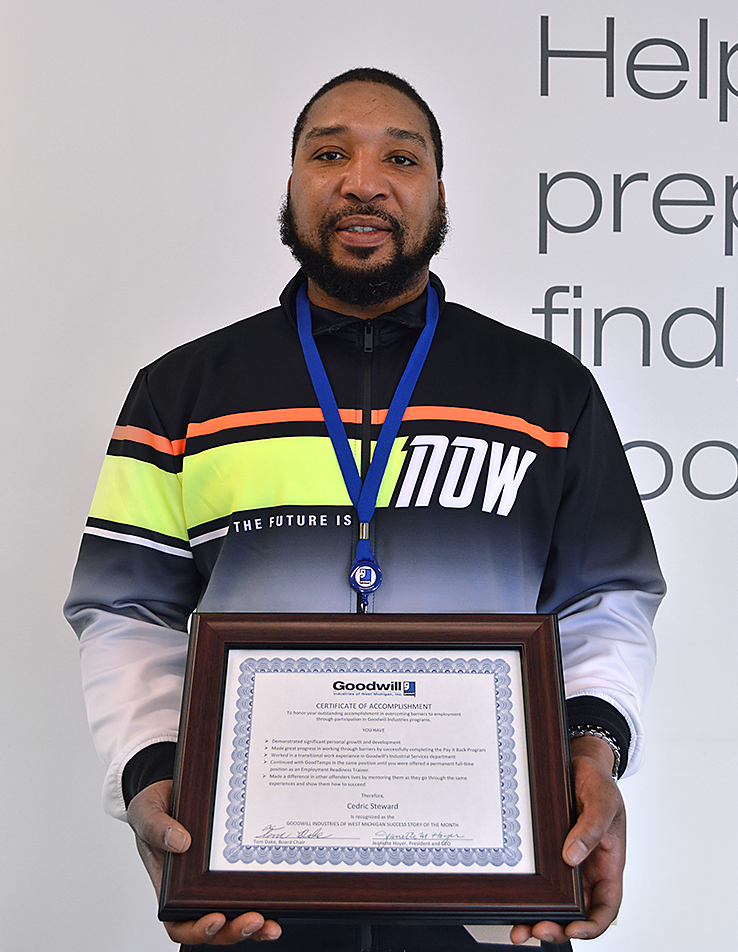 ---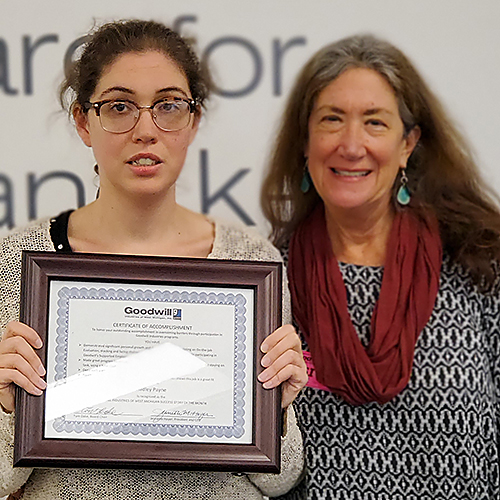 Success Story: Hadley
Hadley's parents were not sure if their autistic daughter could be successful in a "regular job." After finishing high school, Hadley was referred to Goodwill's Supported Employment program by Michigan Rehabilitation Services (MRS) to develop her employment readiness skills. Her Goodwill case manager was able to find Hadley a stocking position at the Shop-N-Save Food Center in Ludington. After some time and job coaching, she now works independently. "She is happy because it allows her to see many people in her community and they always tell her she's doing a good job. I believe it makes her feel productive," her mother said.
---
Visitor entrance for Career Center services and GoodTemps
To better serve the community, all visitors will park and enter through the Apple Avenue entrance of our headquarter facility.
Career Center services and GoodTemps temporary staffing services have moved to the front of the building and use the main entrance. The current rear entrance off Sophia will no longer be used.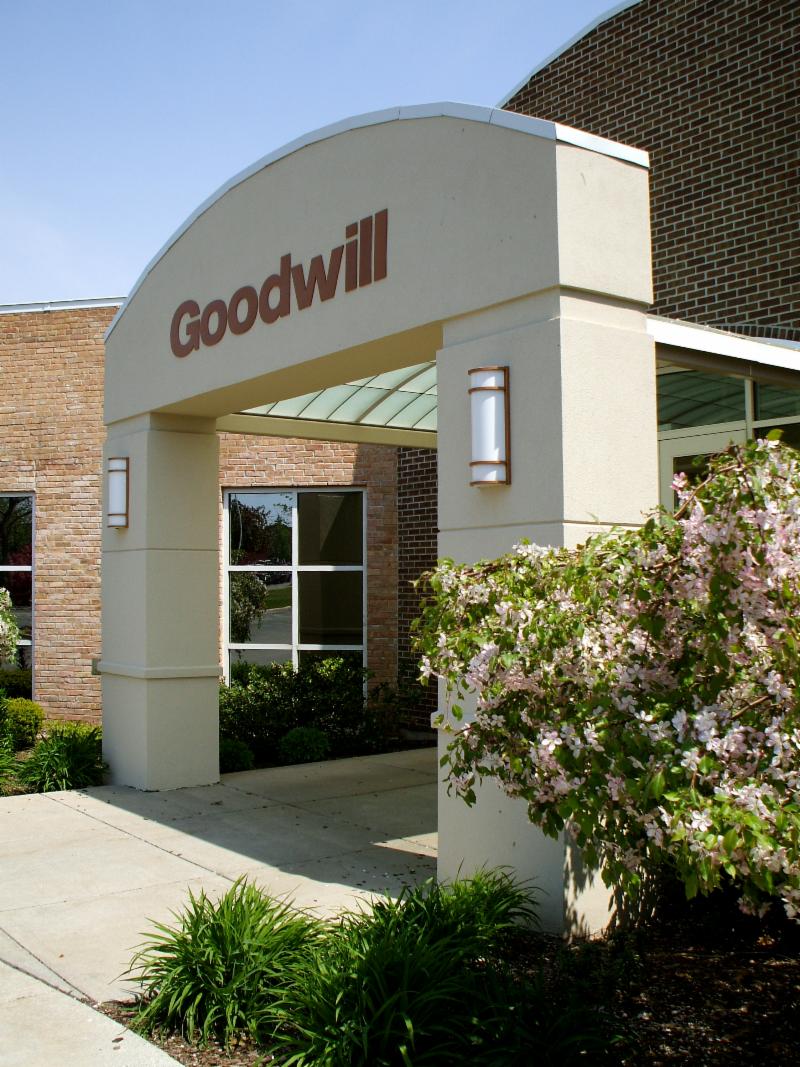 ---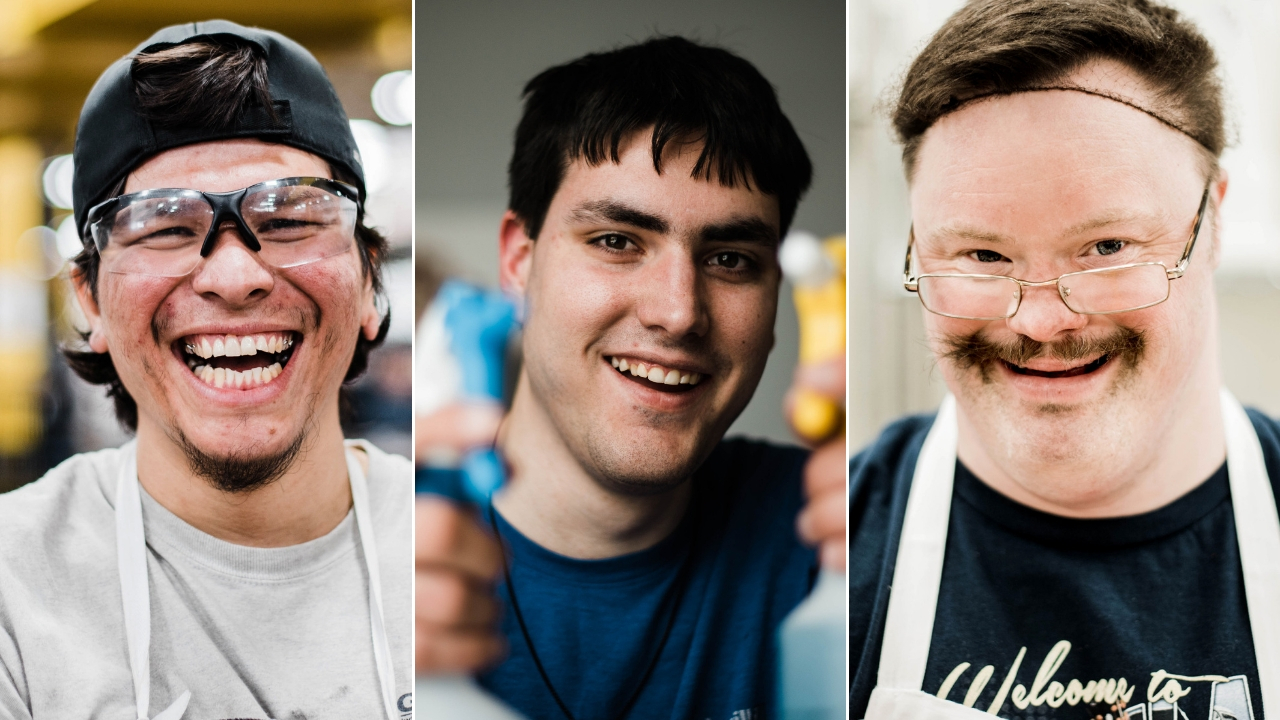 Achievers of the Year
Each year we celebrate community members who overcame adversity through the power of work, and the employers who supported them.
Quick links to other pages: