Helping people prepare for, find, and keep good jobs is what Goodwill is about.
0
total people served in 2020
0
people placed into jobs within area businesses
0
program participants who worked and earned paychecks at Goodwill
Apr 10, 2018
Success Story
Meagan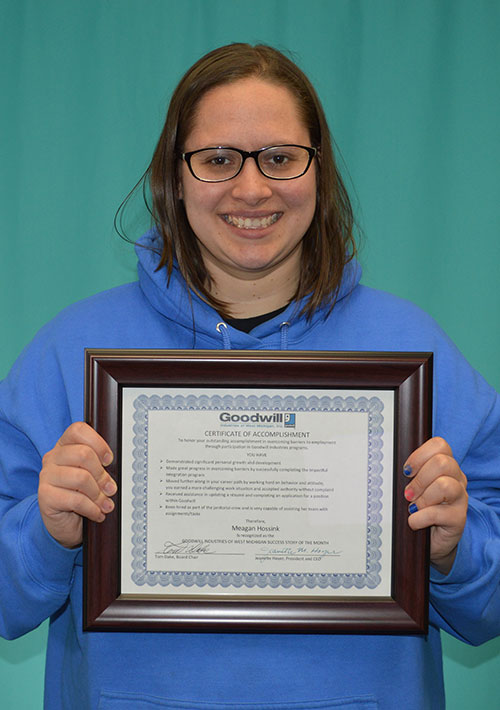 Meagan was hesitant to come to Goodwill. She had previously participated in employment programs from another human service organization without success.
This was devastating to an individual like Meagan who struggles with anxiety, attention deficit hyperactivity disorder (ADHD), and a mild intellectual disability. Luckily, Meagan and her mom decided to try Goodwill.
Goodwill case managers assessed Meagan's goal to work in the janitorial field and enrolled her in Goodwill's Impactful Integration program.
Meagan's hyperactivity and inattention made it difficult for Meagan to learn the elements of her job and complete tasks, but Goodwill staff were patient. Meagan was placed on Goodwill's janitorial training crew to help her develop her employment stills. Over time, she learned task adherence, on-the-job problem solving, and developed interpersonal skills.
In a short time, Meagan was able to master and complete assigned cleaning tasks, but still struggled with behavioral issues and attitude.
Meagan's manager gave her the chance to work through her emotions and held her accountable to complete each task before moving on. As she improved, Goodwill Janitorial Manager Kathy Harris advanced Meagan to the next level of training.
"Because Meagan has been willing to work so hard on her attitude and behavior, we recognized that she was ready for a more challenging situation," Harris said.
Meagan began joining the crew cleaning outside facilities such as the Ottawa County Community Mental Health building and Pioneer Resources in Holland. She has made progress in accepting authority without complaint.
Recently a regular position opened up on the Goodwill Janitorial Services crew.
Meagan's employment goal as well as her continued efforts to work towards achieving interpersonal management skills made her an excellent candidate for employment.
Meagan received assistance in updating her résumé and filling out the application. She interviewed and was hired by Goodwill on March 5.
While Meagan has graduated from Goodwill programming, her support from the Goodwill staff continues. Meagan has earned the respect of her coworkers on the janitorial crew and has become an integral part of the team. She is very capable of assisting her team with completing janitorial tasks and assignments.
Your support fosters new programs and services!
As we reach the end of another challenging year we reflect with gratitude on our resiliency and recovery, and the special help of donors. Not only did we survive another year of COVID-19, staff shortages, and uncertainties, we have several new initiatives to celebrate and, with you, look forward to their continued growth.
Would you be able to make a financial gift of $200, $100, $50, or the amount of your choosing, to support our effort of changing lives through the power of work? We are so grateful for your support.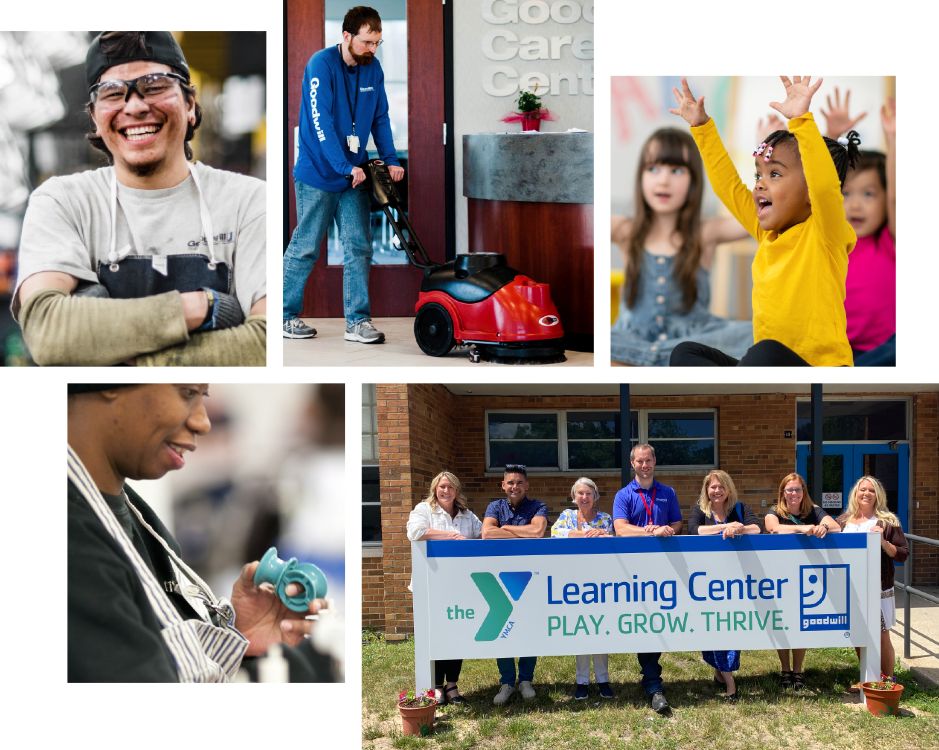 ---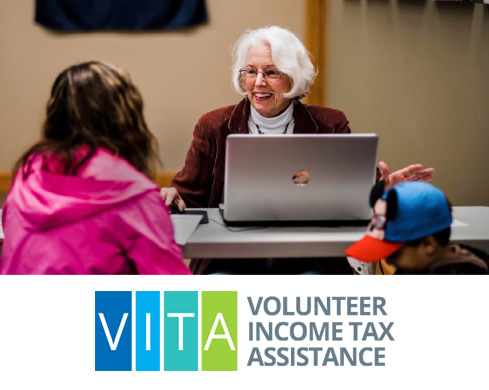 Give your time. Change a life.
Become a Goodwill VITA volunteer!
Goodwill VITA (Volunteer Income Tax Assistance) volunteers provide free tax assistance to low- to moderate-income workers and families eligible for significant state and federal tax credits.
Make a difference! Help working people claim and keep all the refunds they are entitled to.
No accounting experience required! Volunteers receive FREE IRS training and certification.
Flexible hours! You can volunteer for day, evening, and/or Saturday hours in any of our tax-prep sites.
Call 231-722-7871, ext. 8482 for more information.
---
Success Story: Bruce
After spending 30 years in prison, Bruce returned to a town he didn't recognize and faced the daunting task of starting a new life. Goodwill's Offender Success (OS) program worked with Bruce to define and achieve the goals he set for himself.
"Thanks to Goodwill, I have been given a new opportunity," he said.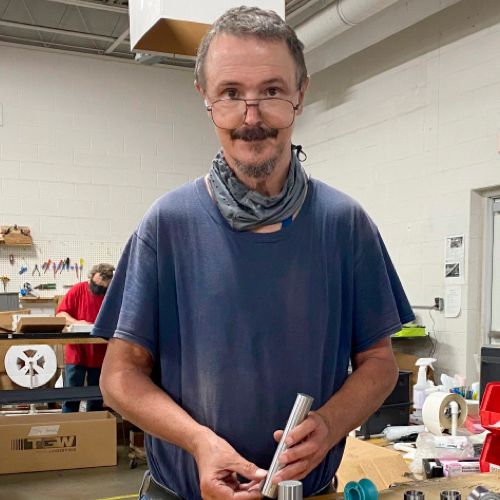 ---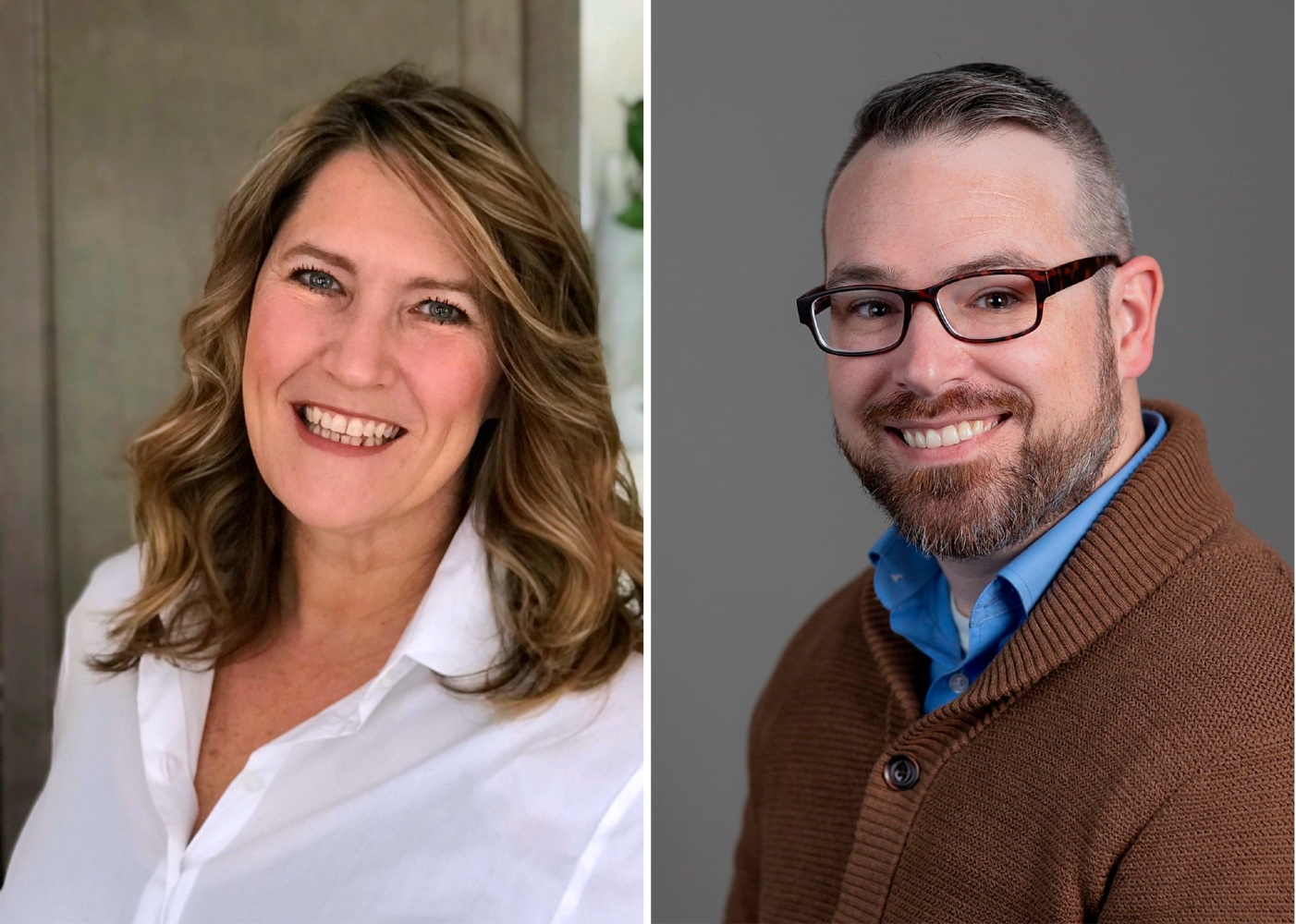 Senior leadership changes announced
Kristin Garris was recently promoted to chief workforce officer, a new position that oversees Goodwill's workforce development and human resources departments, as well as GoodTemps Staffing Solutions.
Goodwill Industries is also pleased to announce the recent hire of Nick Carlson as the agency's new business development director. Carlson will provide operational oversight and business development of Goodwill's Janitorial Services and Industrial Services business-to-business contracts, as well as lead the organization's sustainability and recycling initiatives.
---
Virtual awards ceremony shared with community
Goodwill's Achievers of the Year in-person celebration was cancelled again this year due to the COVID-19 pandemic. We enlisted the help of Andy O'Reilly and Derek Wong from the Muskegon Channel to record a virtual event. We taped each award winner separately and safely, and then stitched them together with our video achiever profiles recorded back in March of 2020.
Congratulations to Achievers of the Year: Kawan, Tim, Quentin, and Hailey; Employer Partners of the Year: Northway Lanes, SRS Fiberglass, and McDonald's of Hart; Contract Partner of the Year: Spectrum Health; and Volunteer of the Year: Susanne McGee.
View the awards ceremony video and the individual stories from our Achievers of the Year page: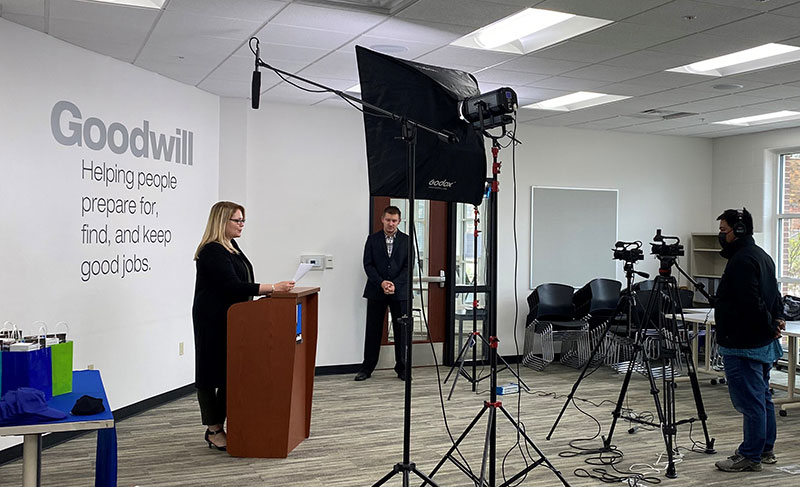 ---

Achievers of the Year
Each year we celebrate community members who overcame adversity through the power of work, and the employers who supported them.
---
GIWM named regional facilitator hub for MI Tri-Share Child Care Program
The MI Tri-Share Child Care Program is a new innovative approach to increasing access to high-quality, affordable child care for working families. The "tri-share" model splits the cost of child care three-ways — between state funding, employers enrolled in the program, and eligible employees.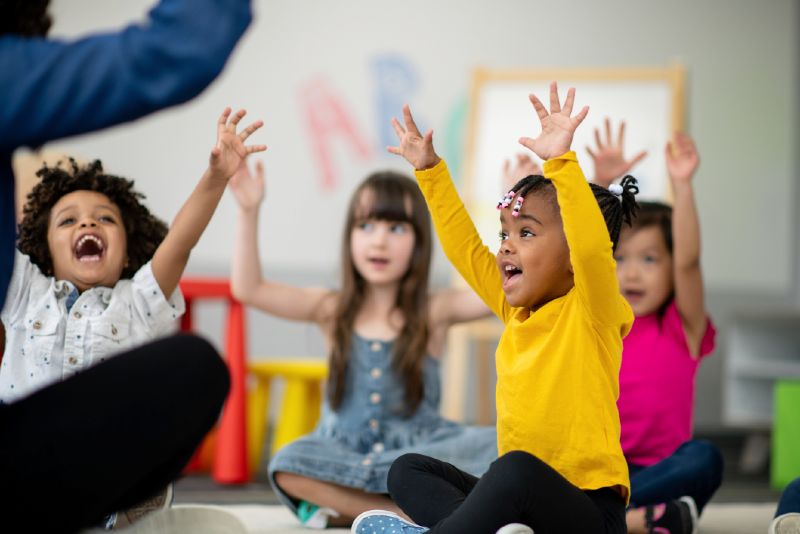 ---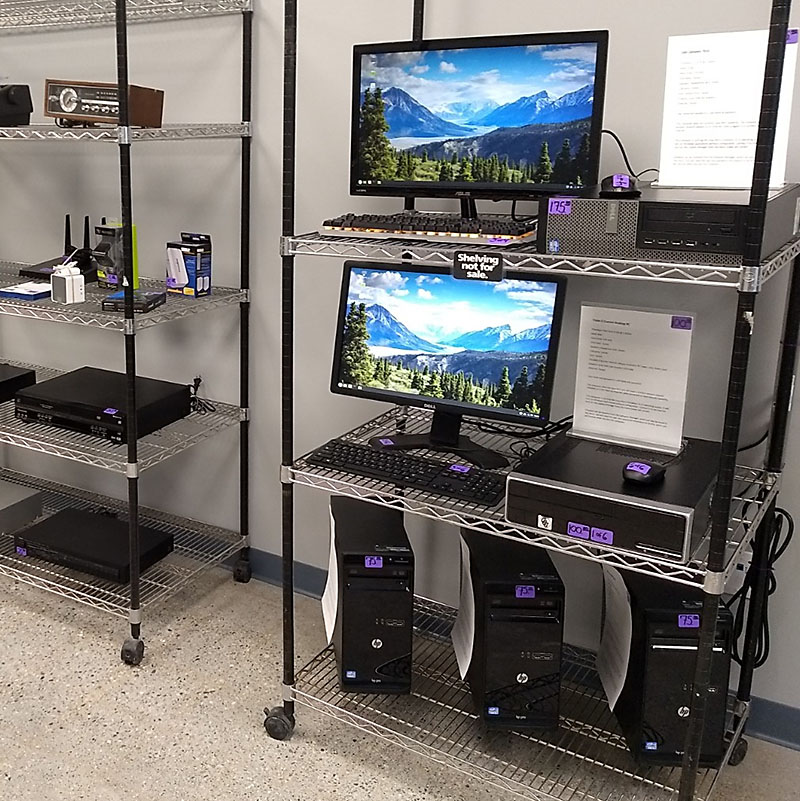 New electronics room in Apple Avenue store
On March 1, the Goodwill retail store at 1501 E. Apple Avenue opened a new "Electronics Room" in a previously unused space just off their regular sales floor.
"Previously owed desktop and laptop computers, stereo systems, speakers, TVs, DVD/Blu-Ray players, video game systems, PC parts, and more, are for all for sale at great prices," said E-Commerce Manager Adam Kragt.
"It's an excellent resource for customers," added Team Leader Clayton Burch. "Everything has been completely tested and ready to go for customers."
Check out the WZZM-TV video story with Jon Mills here:
---
View our annual report
Our 2020 annual report recognizes a year of providing community support as well as achievements in our business, our culture, and in changing lives through the power of work. The annual report also recognizes the four 2019-20 Achievers of the Year and tells their stories.
View our annual report pdf.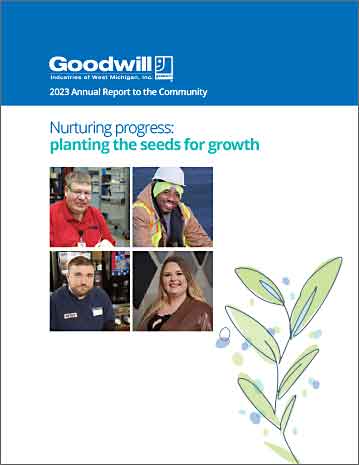 ---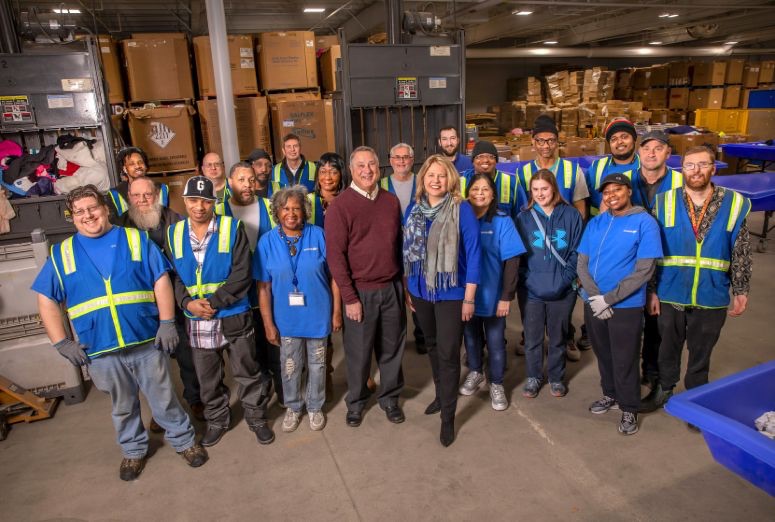 Goodwill is Committed to Diversity, Equity, and Inclusion
---
Goodwill Career Center
Currently open by appointment only. Call 722-7871.
Job search assistance
Résumé development
Career exploration
GoodTemps application
Resource assistance
Masks are required for entry.
271 E. Apple Ave, Muskegon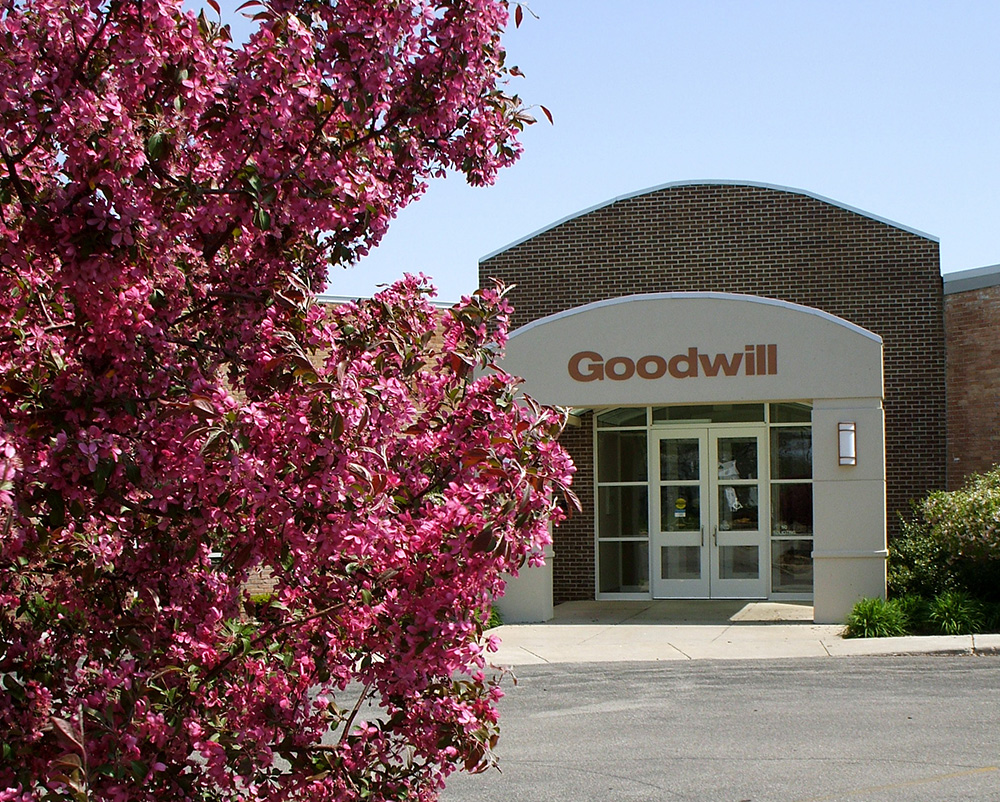 Quick links to other pages: